Visit Delmatto Blown Glass Studio
and Enjoy the Hocking Hills, Ohio
Delmatto Blown Art Glass Studio is owned and operated by Nick Delmatto in the Hocking Hills near Logan in Southeastern Ohio.
Nick uses various techniques applying hot color to clear glass by shaping and blowing without molds or assistance. Everything from his shop is made with his own hands and makes blown and solid decorative glass pieces.
Trilateral Vases
These vases have color glasses encased in clear or are surface fumed glass. These are 3 sided asymmetric forms which are all influenced by nature in an abstract and unique way. The bottoms are ground and semi-polished.
These are example pieces. Please write or call (740) 385-8036 for availability.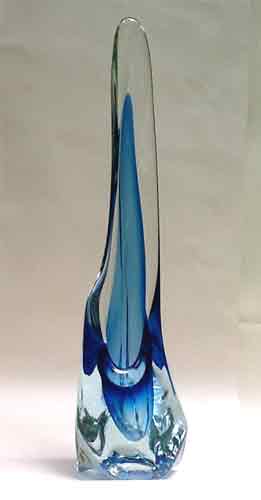 Click Image for Enlargement