Spring Vases by Glass Artist, Nick Delmatto
Size: 6" to 8" tall. Price: $140 to $280
To order a vase call (740) 385-8036 or e-mail for pictures of available pieces.
All pieces are one of a kind, made, signed and dated by Nick Delmatto.
Wholesale and retail business is welcome.
Spring Vases
Many layers of color & clear creating a painterly quality on a classic free blown form. These vases are thick walled and heavy.
These are example pieces. Please write or call (740) 385-8036 for availability.
Click Image for Enlargement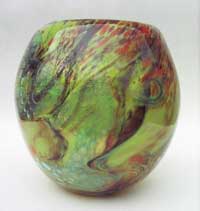 Order Your Vase by Phone (740) 385-8036 or E-mail Today!